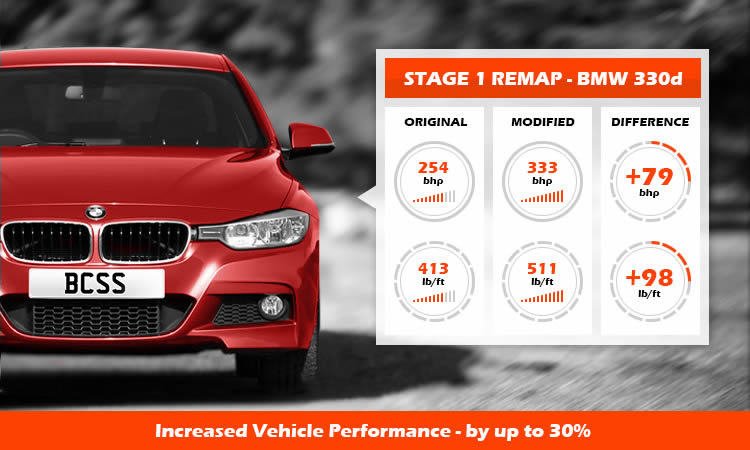 Performance Remapping
The Engine Control Unit (ECU) controls a variety of electrical systems within the engine, it is basically a car computer.
Here at BCSS we can remap the ECU to improve power and torque figures by up to 30%, sharpen the throttle response and widen the power-band, which in turn will help reduce fuel consumption. We use the latest remapping software to vastly improve your vehicle performance whilst maintaining manufacturers reliability levels and recommended instructions. It is a completely safe process, we just fine tune your engine to unleash more power, deliver an enhanced performance and increase fuel efficiency at the same time.
Audi A4 1.8 TFSi (120 bhp)
+ 45 bhp / + 75 nm torque
Audi A4 2.0 TD (143 bhp)
+ 37 bhp / + 80 nm torque
VW Golf 1.6 TD (105 bhp)
+ 30 bhp / + 70 nm torque
VW Golf 2.0 TD (136 bhp)
+ 40 bhp / + 70 nm torque
BMW E90 320d (177 bhp)
+ 35 bhp / + 60 nm torque
BMW E90 330d (231 bhp)
+ 60 bhp / + 120 nm torque
Economy Remapping
A major benefit of remapping is a reduction in fuel consumption. By adjusting the ECU profile BCSS can focus on improving the low end torque and widening the power-band as far as possible. An increase in low end torque means less throttle input on acceleration and when maintaining cruising speeds. It also means the vehicle can be driven in higher gears at slower speeds resulting in less revs and more comfort. This also applies to driving when fully loaded, towing or driving on a gradient.
If you combine our tuning with an adjustment in your driving style to make the most of the extra low end torque you will see an improvement in fuel consumption.